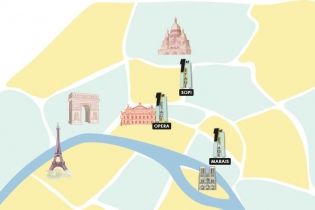 Frenquently Asked Questions
SERVICES
• How is my stay on the 1er Etage following COVID-19?
The organization of your stay on the 1er Etage was already thought out in order to favour your autonomy:
- Check In / Check Out online contactless
- Access codes instead of keys
- Optional "Speedy Breakfast" : Breakfast formula to take away
- Personalized experience with our e-concierge and messaging APP (more information in the 'Experience' section)
- Reservations by phone, email or via our official website
- The payment of the stay is made remotely before your arrival or via our website at the time of booking. The invoice will be sent to you by e-mail at the end of your stay.
We have improved this process in order to guarantee you a maximum of security:
- No more buffet breakfast now served in the dining room, limited to 5 tables.
- Reception mostly by phone, email, or via our mobile application.
- We have strengthened information gathering processes to minimize unnecessary contact.
- Sanitary kit offered in room (Mask and gel)
- Our maid will be present from 7am to prepare breakfast, reception will come from time to time.
READ MORE
LESS
HYGIENE AND SAFETY
• How did the 1er Etage reinforce its hygiene and cleaning measures following the Covid-19?
Before the reopening of the hotel, all rooms, bathrooms and common areas were thoroughly cleaned. While following the recommendations received by the Government, we have improved our hygiene and cleaning measures in order to guarantee the disinfection of the premises after each new stay:
- Cleaning of the common areas (handles, switches, digicodes...).
- Changing cleaning equipment between each room, in particular microfibre wipes.
- Change of toiletries available in the room every day and between each guest.
- Use of approved disinfectant detergent products.
- The staff is equipped with masks and gloves.
- Staff are trained in disinfection standards and barrier gestures and ensure that they wash their hands as regularly as possible and after each interaction.
• Do you have masks and hydro-alcoholic gels available for clients?
For each stay booked in our establishment, we offer our guests a sanitary kit consisting of one mask per person and a hydro-alcoholic gel.
Hydroalcoholic gel is also available in our common areas.
• What restrictions are currently in place for travellers to France?
For French people travelling to France, here is the official government website to inform you: https://www.gouvernement.fr/info-coronavirus/vacances.
We recommend that all travelers not residing in France consult the instructions of the World Health Organization and follow the travel recommendations of their country of residence. To guide you, here is a useful link: https://reopen.europa.eu/fr/map/FRA.
If you have any questions about how to apply these measures concerning entry and residence in France, you can contact the toll-free number: 0800 130 000.
We remind you that in public transport the wearing of masks is compulsory and it is made obligatory in all enclosed places receiving the public, in addition to barrier gestures, from 20 July 2020.
• What is the de-confinement situation of the city of Paris?
More recently:
- Bars,restaurants, museums, theaters, cinema and non essential shops are closed
- The Public transport in Paris are working.
- The RER B train to Roissy-Charles de Gaulle airport is working.
- Roissy-Charles de Gaulle airport is open under restrictions.
- The Orly Val (shuttle bus to Orly airport) works.
- Orly airport is open with restrictions.
MANAGE YOUR RESERVATIONS
• How can I book my post-confinement stay with peace of mind?
We have created a special "Super Flexible" rate in order to offer you maximum flexibility in the organisation of your stay. Bookings with this rate can be modified without charge and cancelled up to 48 hours before your arrival.
We assure you the respect of our sanitary commitments against COVID-19.
• Is it possible to cancel or modify my reservation made before the announcement of Covid-19?
For all reservations made before March 16, 2020 and cancelled because of COVID-19, a credit note can be made.
For all new bookings made after May 11, 2020, the cancellation rules corresponding to the booking will be applied. We consider that you are fully aware of the risks of travel restrictions.
Please contact us by email: info@1eretage.com or by phone at + 33 (06) 07 70 41 25, we will do our utmost to help you in this process.
• How do I cancel/modify a reservation made via "Booking", "Expedia", or another booking platform?
We invite you to contact directly the customer service of the website concerned in order to find out whether or not it is possible to modify/cancel your reservation depending on your country of origin.
CONTACT
• How can I contact you if I have further questions?
By email via our 'Contact' section or via the email address: info@1eretage.com.com